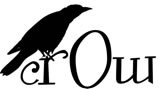 is a unique Irish improvising duo formed in 2011 and comprising Cathal Roche, saxophones and Ian Wilson, live electronics and sound objects. The duo draws upon a broad range of influences and sound sources to create a distinct improvisational voice which incorporates both music and noise/sound and which references variously jazz, world music, drone and death metal, ambient and techno, medieval, renaissance and contemporary classical music.
crOw also seeks to respond to its performative environment by adjusting its sound parameters in real time in order to engage the acoustic and architectural properties of the auditorium itself in performance. The duo's highly successful "Sounding the City" project for the 2015 Cork Midsummer Festival was centred on this idea and saw them perform in spaces as different as the National Sculpture Factory, the massive City Hall Atrium, the Sky Garden in Fitzgerald Park and the bijou GULPD café.
crOw's music crosses borders and boundaries but is at its heart expressive, colourful and textural. Like the eponymous bird's cousin the magpie, crOw will, frankly, borrow anything it takes a fancy to but the results are, ultimately, inimitable.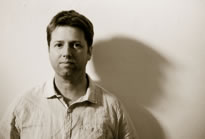 Ian Wilson was born in Belfast in 1964 and began composing while at university. He has since written over one hundred and fifty works, including chamber operas, concertos, string quartets, a range of orchestral and chamber music and multi-media pieces. His compositions have been performed and broadcast on six continents and presented at festivals including the BBC Proms, Venice Biennale and Frankfurt Bookfair and at venues such as New York's Carnegie Hall, London's Royal Albert and Wigmore Halls, Amsterdam's Concertgebouw and Muziekgebouw, Vienna's Musikverein and Tokyo's Suntory Hall. Wilson has in recent years also worked with jazz musicians, Asian tabla and Chinese pipa players and traditional Irish singers; he has also collaborated with choreographers, theatre directors and electroacoustic and computer music composers.
In 1991 Ian's first orchestral work, Running, Thinking, Finding, received the composition prize at the Ultima festival in Oslo and in 1992 he received the Macaulay Fellowship administered by the Arts Council of Ireland. In 1998 he was elected to Aosdána, Ireland's State-sponsored body of creative artists and in recent years he has been AHRB Research Fellow at the University of Ulster, Composer-in-Association with California's Camerata Pacifica ensemble and An Foras Feasa post-Doctoral Research Fellow at Dundalk Institute of Technology in Ireland. He was director of the Sligo New Music Festival from 2003 to 2011 and from 2010 to 2014 was Associate Composer with the Ulster Orchestra.
There are commercially-available recordings of nearly fifty of Ian's works on labels including Diatribe, Riverrun, Black Box, Timbre, Guild, Meridian and Chandos. His music is published by Ricordi (London) and Universal Edition and his website address is www.ianwilson.org.uk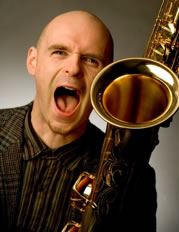 CATHAL ROCHE is a composer-performer specializing in solo saxophone performance. As composer, devisor, collaborator and improviser, Cathal has performed and recorded with many leading Irish ensembles and performers including the ZoiD, Fuzzy Logic and ICC Ensembles, Kai Big Band, Dublin City Jazz Orchestra, Awkward Silence, crOw, the Rise Saxophone Quartet and Common Tongue.
He has collaborated with Ian Wilson on a number of projects, performing with the RTÉ Vanbrugh String Quartet, Hugh Tinney, Mia Cooper, Cliona Doris, Ian Wilson, Lorcán Mac Mathúna and visual artist Gareth Kennedy.
Residing on the border of counties Sligo, Roscommon and Leitrim, Cathal has produced a body of solo work with support from a number of arts residencies such as the TRADE Visual Arts Seminar (2007, 2009) and Art@Work, (2008, FDK Engineering; 2009, Carrick Cineplex). In 2008 Cathal was awarded Arts Council commissions for the Sligo Jazz Project (Rise Saxophone Sextet, featuring UK jazz saxophonist Julian Arguelles) and for George Mason University, Virginia, USA (solo tenor saxophone and tape). Cathal's recent performance work includes three multimedia works: The Messenger (solo saxophone and DVD), Guidance (multi-tracked saxophone, DVD), and The Map Task, (quarter-tone tubular bells, CD and two 'speech game players'). He is a member of the duo crOw with Ian Wilson (live electronics) and of Common Tongue with Wilson again on live electronics and sean-nós singer Lorcán Mac Mathúna; he is also a founder member of the RISE Saxophone Quartet. In April 2011 Cathal gave the world première of Ian Wilson's The Book of Ways, an improvisatory work written for Roche and the RTÉ Vanbrugh Quartet, at the Sligo New Music Festival, subsequently broadcast on RTÉ Lyric fm and BBC Radio 3.


| | | |
| --- | --- | --- |
| | | |